As MVT Foods, we have taken firm steps towards branding in our journey that we started in 2008 and today we have become a pioneer Manufacturer and exporter in Saffron & Saffron Innovative Products.
Starting with only Saffron, company now actively deals in more than 60 different products & varieties.
We supply and export a wide variety of products, from 10 different categories: Saffron and Saffron Innovative Products, Dried Fruits, Nuts, Dates, Honey, Fruit Rolls, Rock Candy and Instants, Tea and Barberry.
The company grew constantly over the following years expanding its product range, enlarging its geographic reach across continents, and widening constantly its customer base. MVT Foods exports to more than 30 countries across the world consisting of the Norway, Germany, Canada, New Zealand, UK, Australia, UAE, Kuwait, Qatar, and South Africa and….. .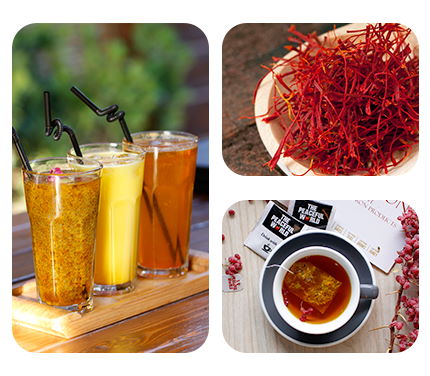 One of the most important issues for our company is quality, hygiene and customer satisfaction.
Sourcing directly from farmers and interacting with them to produce. Harvest best quality has always been a matter of focus & interest for our company.
Capability to create customization Packaging for UNIQUE ceremonies & festivals (Thanksgiving, Weddings, X-Mas, Ramadan & Diwali).
The variety of our products appeals to every taste & fits in every market.
We love our work – the production of our products brings us satisfaction and pleasant experiences
We have set foot in the field of exports with a new look at the variety of packaging for different markets and segments (according to) our customers' needs. We have more than 40 different types of Saffron Packaging.
We are confident in supplying quality products at reasonable prices to international customers that ensuring an excellent experience for all our clients.
As a modern and innovative company, we try to develop a solid business in the Saffron segment, with a strong presence on key markets in the region, becoming the FIRST CHOICE of our consumers, customers and suppliers.
We at MVT develop and offer our customers products with superior taste and high quality, produced with responsibility and care for each consumer.
Trust, fairness and ethics in everything we do.
Quality is a key word for MVT Foods
Belief in the power of 'one team, one heart'.
Assure consistent and profitable growth.
The willingness to be accountable for our actions and output.
Innovation and product development are our strong points. We are specialized in producing our products in various sizes. We can deliver any kind of packaging the customer needs, with customer brand name. Each private label is a unique project for us.
We handpick our raw-materials from our network of local farmers, carefully selecting each item, always ensuring consistent and premium quality. Our company has dedicated all its effort in developing a process for quality selection, sorting and packing of different products. Perfection in service and strict quality control has enabled us to supply our products worldwide. Sampling upon receipt of raw material, in process inspections and final lab analysis enables us to deliver and build clients all the time. At MVT Foods, we provide you with passion, energy, commitment, innovation and focus.